Oil-to-Gas Conversion in [state]
Switching fuels is one of many ways to cut utility expenses
Learn about the benefits of replacing an oil furnace with a high-efficiency heat pump, gas furnace and air conditioning system.
According to the U.S. Energy Information Agency (EIA), it costs the average homeowner $2,087 to heat with fuel oil in 2012, but only $832 to heat the same-size house with natural gas. Since 2002, oil heat has averaged 30% to 50% more than gas every year.
The EIA predicts that oil prices will continue to increase, while the cost of natural gas should remain comparatively stable. Given these circumstances, it's no wonder a growing number of homeowners are electing to stop burning oil and start burning natural gas.
Is your home located close to a natural gas line? Is your oil-burning furnace or boiler more than 10 years old? If so, switching fuels can be a smart move. On top of energy savings and promoting sustainability, it is easier to supply natural gas to your home via underground lines - especially during severe weather that can disrupt oil deliveries. Finally, you may be eligible for rebates and other financial incentives if you switch fuels. [company] can help you find out more - schedule a free estimate with is in [major cities 1] and nearby!
How much will it cost to convert from oil to gas?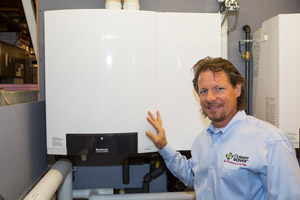 Whether you convert to natural gas or stick with fuel oil, you can take advantage of super-efficient combustion technology when replacing your old furnace, boiler or heat pump.
The cost to convert from fuel oil to natural gas can vary greatly – anywhere from $4500 to over $10,000! There are several reasons for this wide price range. First of all, the cost of bringing a gas line to the house will depend on where you live, where the nearest gas main is located, and the gas company's policy regarding new customers.
Secondly, local building or health codes may require you to remove the oil tank that is no longer needed. A third factor determining conversion cost is the equipment replacement option you choose. Sometimes it's possible to simply replace the oil burner assembly with a gas burner. In other cases, you'll have to remove the entire oil-burning furnace or boiler and replace it with a new gas-burning appliance.
Insulation upgrades are also essential to cut heating and cooling costs
Before you make any changes to your HVAC system, it's wise to make basic insulation and air sealing upgrades first. These two "building envelope" improvements alone can cut HVAC expenses nearly in half. By upgrading your home to the air sealing and insulation standards recommended by the U.S. Dept. of Energy, you'll be making a "once-and-done" improvement that will deliver ongoing energy savings, no matter what condition your HVAC system happens to be in.
Fortunately, [company] takes a whole-house approach to energy savings. Our energy expertise and home improvement capabilities extend from home insulation, air sealing and ductwork repairs to lighting, HVAC systems, water heating and more.
Schedule a complete inspection of your HVAC system
[company] will inspect your heating and cooling systems for free and provide free estimates for any oil-to-gas conversion. Call or email us today to set up your inspection and replacement estimate!
Looking for a price? Get a no cost, no obligation free estimate.